The Hiding In Plain Sight series of blog posts is designed for those who are not out of the broom closet and want a discrete way to practise their craft. This particular post will focus on how to wear charms and talismans in a way that does not scream 'witch'. Please note: the companies and products mentioned in this post are listed for information purposes only. PAN does not have commercial agreements with any of these suppliers.
Some people have no problem being out-and-proud pagans who are happy to wear giant gleaming pentacles around their necks and several gemstone rings on each hand. Others- for a variety of reasons- prefer more discrete ways to wear their charms. For this second group of people, commercial charm bracelet companies may be a godsend (figuratively or literally).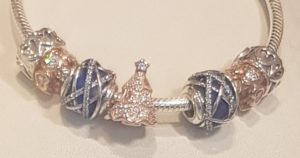 Companies such as Trollbeads (the original bead-on-bracelet company), Pandora, Chamilia,  Emma and Roe and Thomas Sabo provide a wide range of personalisable jewellery. Because these bracelets are very much in fashion right now, no one will suspect that that cute silver charm is actually in honour of your patron deity or that crystal pendant represents the moon's energy.
While charms are mostly marketed towards women, Trollbeads and Thomas Sabo have dedicated men's collections. Thomas Sabo in particular has a comprehensive men's collection which includes necklaces, watches, cufflinks and earrings.
Trollbeads (the original bead-on-bracelet company), is known for its handcrafted and highly detailed beads, and has an impressive collection of nature and mythical-themed beads. This is probably the most customisable of all the charm bracelets as you can choose your own lock, whereas other bracelets all come with the same lock. Chamilia is great for festive themed charms (including commercial Halloween) and for spooky creatures such as gargoyles, bats and skeletons. If, however, you absolutely want a one-of-a-kind charm, you can have one made via companies such as Uberkate (not in any way related to Uber ride sharing), Etsy or Hard To Find.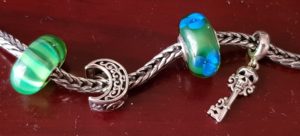 Because these are commercial charms, it is highly unlikely that anyone will suspect their true symbolism. If someone does ask about them, you can reply with a vague answer such as 'it's personal', 'it's about a special memory' or 'it's to remind me of what's important'. These vague answers tie in with the marketing narrative that each charm should be purchased to mark a special moment in your life so these kinds of answers shouldn't raise any suspicion.
If you have any other suggestions for ways to discretely add charms and talismans to your wardrobe, please let us know in the comments section below. Also, be sure to check back soon for more posts how to hide your craft in plain sight.